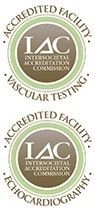 VVRMC is proud to state that we are accredited by the American College of Radiology (ACR) more specifically in the modalities of Computed Tomography, Mammography, Obstetrics, and General Ultrasound. ACR sets the guidelines for radiation safety and medical imaging protocols.
Our Vascular Sonography and Echocardiography specialties are accredited by the Intersocietal Accreditation Commission (IAC) which requires that all interpreting physicians (medical staff) and practicing technologists/sonographers (technical staff) must be adequately trained and experienced to interpret and perform noninvasive vascular testing respectively.
All our technologists are registered by the American Registry of Radiologic Technologist (ARRT). The ARRT provides on going testing and certification of technologists and administers continuing education and ethics requirements for the required annual registration and maintenance of credentials. This further proves that at VVRMC we LIVE to deliver healthcare our community can TRUST.
You are now able to access any images taken at VVRMC by calling Medical Records at 830-778-3743 to request your study be uploaded. Click the link below to provide the information required to get your images. Please note the person requesting the images must be the one to enter the information.
https://vvrmc-patientportal.ambrahealth.com/access
At VVRMC we are fortunate enough to have two technologically advanced Computed Tomography scanners. Our Light Speed RT16 Xtra is typically used by our in-house Interventional Radiologist Dr. Otazo, who performs CT guided biopsies, fluid drainage, pain management and real-time device placement and verification. Our Revolution EVO 1.0 CT scanner provides our community with drastically low-dose crisp imaging and it is equipped to handle out patient exams as well as emergency cases around the clock.
Our diagnostic imaging department includes a fluoroscopy suite which is used for real-time imaging for specialized exams. There is also a dedicated emergency radiography suite that uses low-dose technology, which is equipped to perform scoliosis, and long bone studies. Also included in this area of specialty imaging is the DEXA suite which is specialized imaging for assessing bone loss and diagnosing osteoporosis.
Our MRI Suite hosts the most current MRI equipment that GE has to offer: The SIGNA ARTIST 1.5 T. This equipment combined with a more comfortable experience for patients provides the very best in MRI diagnostics. We also have a Sentinelle Enviro Breast MRI coil which makes it possible to have a breast MRI right here instead of travelling all the way to San Antonio.
All mammograms are performed on state of the art digital X-ray equipment. Digital mammography provides faster exams and incredibly detailed images. It also ensures that the patient receives lower radiation, while the results display higher sensitivity to abnormalities. This technology helps detect breast cancer at its earliest stages, when it is most successfully treatable.
VVRMC now has GE Senographe Pristina 3D Imaging! A state-of-the-art screening and diagnostic imaging equipment which has been designed by women, for women. This new technology is more comfortable, obtains even better images, has less false positives, is more comfortable and accurate for the 40% of women who have dense breasts and offers an exceptional mammography experience. If you have any anxiety around getting a mammogram, this equipment is designed to be both soothing and accurate.
The integrated 3D mammography provides an exceptionally sharp and detail image for breast cancer detection and diagnosis at the same dose of a standard 2D mammography.
The Senographe Pristina platform is designed to support future functionalities such as stereotactic biopsy.
VVRMC is dedicated to every women's breast care needs with our 3D mammography, Breast MRI, and Breast Sonography!
There is no reason not to schedule an appointment today.
Our diagnostic Nuclear Medicine department has a state of the art camera, the GE DiscoveryNM630. This department performs all cardiac stress imaging, bone studies, bleeding scans, and liver exams. Our Nuclear Medicine technologists are certified by the Nuclear Medicine Technology Certification Board (NMTCB), and perform all procedures with the utmost proficiency and professionalism.
VVRMC has two GE Logiq E9 general ultrasound units and two dedicated echocardiography units a GE Vivid E9 and the GE Vivid E95 . Our newest member is the GE Voluson; a dedicated obstetric ultrasound unit. Common uses for ultrasound include imaging pregnant women, evaluation of organs, blood vessels and procedures such as needle biopsies and aspirations.