Halloween safety: Tips for trick-or-treaters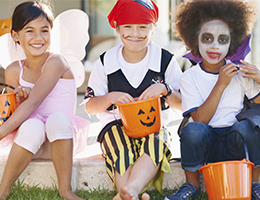 Oct. 24, 2019—Costumes, candy and a late bedtime—it's no wonder kids count down the days until Halloween. Although dressing up and running around in the dark can be loads of fun, it can also pose some safety risks. If you're the parent of a trick-or-treater, keep these safety tips in mind.
Accessorize well
Decorate costumes and bags with reflective tape or stickers. If possible, choose light-colored clothing.
Check the labels on costumes, wigs and accessories to be sure they're flame resistant.
Be sure any sword, cane or stick that's part of a costume isn't sharp or long—that helps prevent injuries if a child stumbles.
Consider nontoxic face paint rather than masks, which can obstruct a child's vision.
Say "no" to decorative contact lenses unless they're prescribed by an eye-care professional. Otherwise—no matter what the packaging claims—they might cause a serious eye infection.
Navigate the trick-or-treat trail without a hitch
Teach children never to enter a stranger's home or eat treats before they return home.
Always accompany a young child on neighborhood rounds—or ask a responsible adult to serve as your substitute.
If older kids are heading out on their own, agree to a route that's acceptable to you. Tell them to stay in a group, and set a specific time for returning home.
Remind everybody to walk safely. That means sticking to sidewalks and only crossing the street at established crosswalks—never between parked cars or out of driveways. If no sidewalks are available, it's best to walk at the far edge of the roadway and facing traffic.
Finally: Be a thoughtful neighbor
Help keep all the trick-or-treaters safe in your neighborhood by making your home hazard-free. Here's how:
Remove anything from your yard or porch that a child might trip over—say, a bike or garden hose.
Sweep away any wet leaves from sidewalks and steps.
Restrain pets so they don't jump on—or worse, bite—any child at your door.